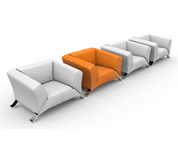 Management
Tim Harris, Chief Executive Officer and President
As CEO and President, Tim Harris brings over 20 years of executive experience in building teams that develop, ramp and build great high technology products in extremely cost sensitive environments.
Tim Harris was most recently CEO and President at Celerity, which developed and manufactured leading edge, high precision capital equipment for the semiconductor and solar equipment industries. Celerity was owned by a leading Private Equity company. Prior to Celerity, Tim Harris was CEO at Komag (KOMG, Nasdaq); Komag developed and built media in the US and Malaysia for the disc drive industry. Under Tim's leadership Komag doubled revenue and tripled profits. Komag was acquired by Western Digital for over $1.2 Billion in 2007. Prior to Komag, Tim was COO at venture backed ioLon which developed and sold high powered tunable lasers for the Telecom industry. Tim was at Seagate Technology from 1990 to 2000, ending as Sr. Vice President, World Wide Technology Manufacturing, which included responsibility for Seagate's Wafer Fabs, Slider Development and Operations, Head preproduction, the OEM Tape Head Business and related operations. Tim and family lived in Malaysia for 5 years in that span, building Seagate's Recording Head business there into a 15,000 person operation. Prior to Seagate Tim was General Manager, 130mm Division for Domain Technology and worked at Memorex Consumer Products for 10 years.
Tim has enjoyed teaching business at Santa Clara University and contributes on local charity boards.
Ryan Benton, CFO
Ryan Benton, has over 17 years experience in diverse corporate financial roles. Prior to joining SoloPower, Mr. Benton worked as a financial consultant to ASMA, where he made key contributions in the areas of financial reporting, planning and analysis, SOX remediation, and he assisted with the integration of the newly acquired ASM NuTool. Prior to ASMA, Mr. Benton served as Corporate Controller of eFunds Corporation, a public technology company with over $600M in annual sales, where his responsibilities included external and internal reporting. Prior to that, Mr. Benton served as Corporate Controller of a technology company in the hospitality industry – REZsolutions, Inc. During his tenure, through organic growth and acquisitions, that company grew from under $10m in annual sales to over $300m in annual sales – until eventually being acquired by Pegasus Solutions. Mr. Benton started his career as a CPA working for Arthur Andersen & Co.
Albert J. Boro, Jr., Senior Vice President, Strategic Business Development
General Counsel and Secretary
Al Boro has practiced law for more than 20 years, and before joining SoloPower, was a partner with Pillsbury Winthrop Shaw Pittman LLP in San Francisco. Mr. Boro has managed litigation and corporate transactions and counseled on antitrust and compliance matters for companies in the energy and technology industries. His energy industry experience includes working on the antitrust review of the Chevron-Texaco merger by the Federal Trade Commission and the States' Attorneys General, advising a petroleum trade association on greenhouse gas regulatory policies, and defending antitrust price-fixing claims and government investigations. Mr. Boro has tried civil and criminal cases to jury verdicts, and has served as defense liaison counsel in multidistrict antitrust class action cases. Mr. Boro is currently serving as Vice Chair-GSI of the California State Bar's Antitrust and Unfair Competition Law Section. He served as a trial panel attorney from 1992 to 1999 on the Federal Public Defender's Criminal Justice Defense Panel for the Northern District of California, and was a consultant to Legal Aid of Marin in 1994. Mr. Boro clerked for Justice Byron R. White of the U.S. Supreme Court in Washington, D.C., and Judge Walter J. Cummings of the Seventh Circuit Court of Appeals in Chicago, Illinois. He has a juris doctor degree, a master's degree in public policy, and a bachelor's degree in economics from the University of California at Berkeley.
Ed Casey, Senior Vice President of Operations
Ed Casey joined SoloPower as SVP of Operations in March 2010. Mr. Casey spent the last two years in Malaysia working for Seagate as Worldwide Executive Director of Substrate Development responsible for ramping a new substrate factory. His responsibilities also included development groups located in Singapore and Fremont, California. Seagate is the industry leader for hard disc drive products. Prior to Seagate, he worked at Komag from 2000 to 2006 in several senior engineering roles before becoming COO. In this role, he managed all of Komag's manufacturing plants located offshore in Malaysia. He also was responsible for Komag's Pilot and Launch groups located in San Jose, California. Komag developed and built media for the disc drive industry in the US and Malaysia, and was acquired by Western Digital for over $1.2 Billion in 2007. Prior to Komag, Mr. Casey was Senior Director of Manufacturing and Substrate Development for HMT from 1998 – 2000. HMT was a hard disc drive media manufacturer located in San Jose California acquired by Komag in 2000. Prior to HMT, Mr. Casey worked for 15 years at StorMedia, a hard disc drive media manufacturer. Mr. Casey held several positions including Executive Director of Operations.
Dr. Mustafa Pinarbasi, Chief Technology Officer
Dr. Mustafa Pinarbasi is an executive technologist with over 20 years experience in thin film materials and processing. Prior to joining SoloPower, he managed the advanced technology group at Hitachi GST, where he led various novel thin film and processing technology development projects which were transferred to manufacturing. From 1989 to 2003, Dr. Pinarbasi developed thin film processing technology for magnetic head devices at IBM in San Jose, CA. His work at IBM included development and productization of many innovative processes and thin film structures as well as the first introduction of ion beam sputter deposition technology to the magnetic head industry. In 2000, he received the distinguished IBM Corporate Award and garnered Distinguished Engineer status for his technical contributions.
Dr. Pinarbasi has authored many articles, holds 130 US patents and has over 40 pending patent applications. He received Masters and Ph.D. degrees from the University of Illinois at Urbana-Champaign where his studies focused on processing and properties of hydrogenated amorphous silicon thin films.
Bruce M. Khouri, Chief Commercial Officer
Bruce brings over 25 years experience as a construction industry and building materials professional. He started his career as the CFO and GM of a start-up company, pioneering the introduction of thermoplastic "single-ply" membranes to the U.S. commercial/industrial roofing industry. He later founded SCR Group, Inc., a nationwide provider of specialized, energy efficient roofing systems for non-residential applications. Bruce subsequently developed and patented a proprietary BIPV roofing system and founded Solar Integrated Technologies (SIT.Ln AiM) in 2001. Bruce went on to lead and execute the first large scale solar PPA (5MW) in the U.S., signing an exclusive $500M ROFR with GE Energy financial Services in April 2005.
As a successful roofing and solar industry entrepreneur, Bruce brings to the Company a unique blend of domain expertise and leadership skills to assist the Company in its transition from start-up to full-scale commercialization. Bruce's principal strengths are cross-functional team building and driving a culture of innovation and problem solving. He holds degrees in Economics, Finance, Accounting and Management from Bentley University, Waltham, MA.